After logging into the game for the first time, you will be taken directly to the character creation screen. It will look something like this: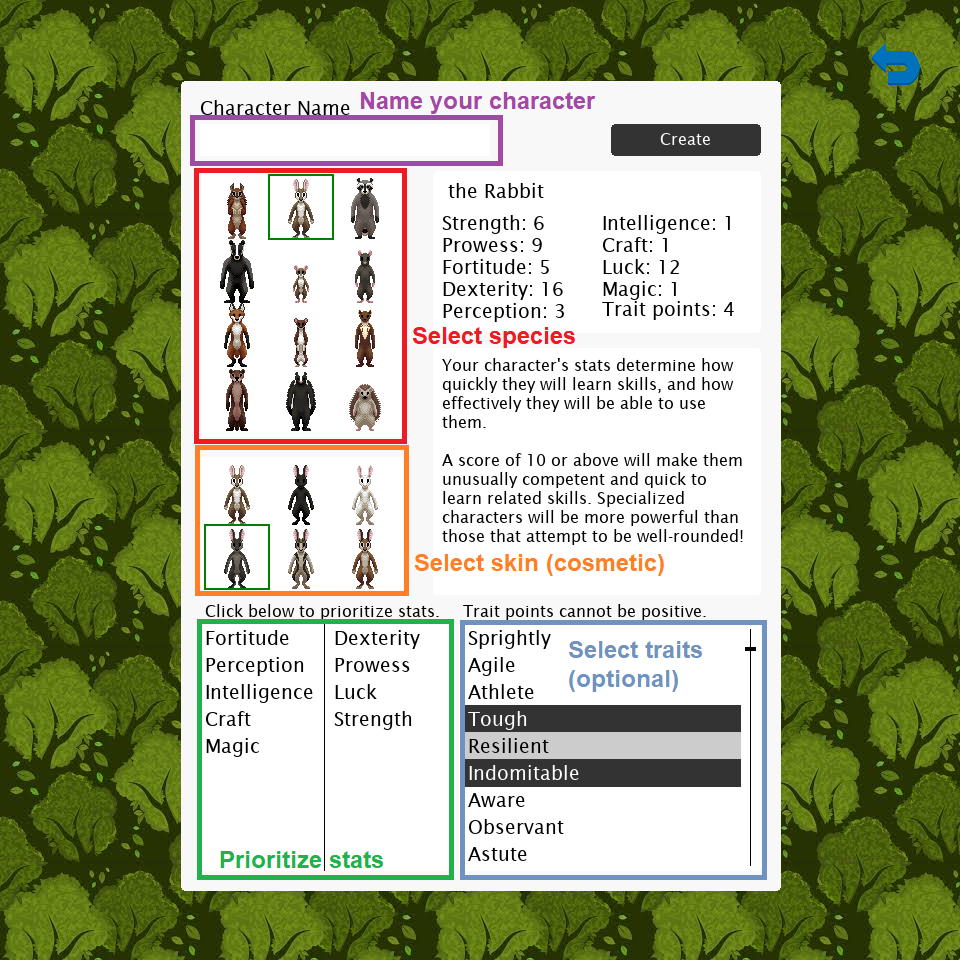 As you can see, there's three steps to creating your character (plus two optional ones), which can be done in any order:
Choose a unique name
Choose a species, which primarily determines your stats and starting language
Prioritize your stats from highest to lowest
(Optional) Choose a cosmetic skin
(Optional) Select a balanced list of traits
The important choices are your species and stat priorities, because both affect your stats. Your stats are what determine how easy skills are to learn and use; each skill has one or two stats associated with it. You'll have a limited number of skill points, so you'll want to spend them on skills you have good stats for!
When making a character, you may want to refer to the skill documentation to figure out which skills you want to take in the future. While it's possible to make viable builds with all sorts of skill arrays, you'll generally want to pick one skill to take to 50, and three skills to take to 30. 50 is the cap for a skill, and 30-35 is a good level for being reliably competent at a skill.
You'll want around 15 in the stat associated with your main skill, and at least 10 in the others. For instance, let's say you want to make a scrounger who does a bit of cooking on the side, can pestle to help with the cooking, and can climb. Scrounging uses Luck, so we want that as close to 15 as we can. Both Cooking and Pestling use Craft, so we want that at least 10. And Climbing uses Dexterity, so we want that at 10 as well. We'd also like for our Perception to be 10 since having low Perception can make Scrounging more difficult.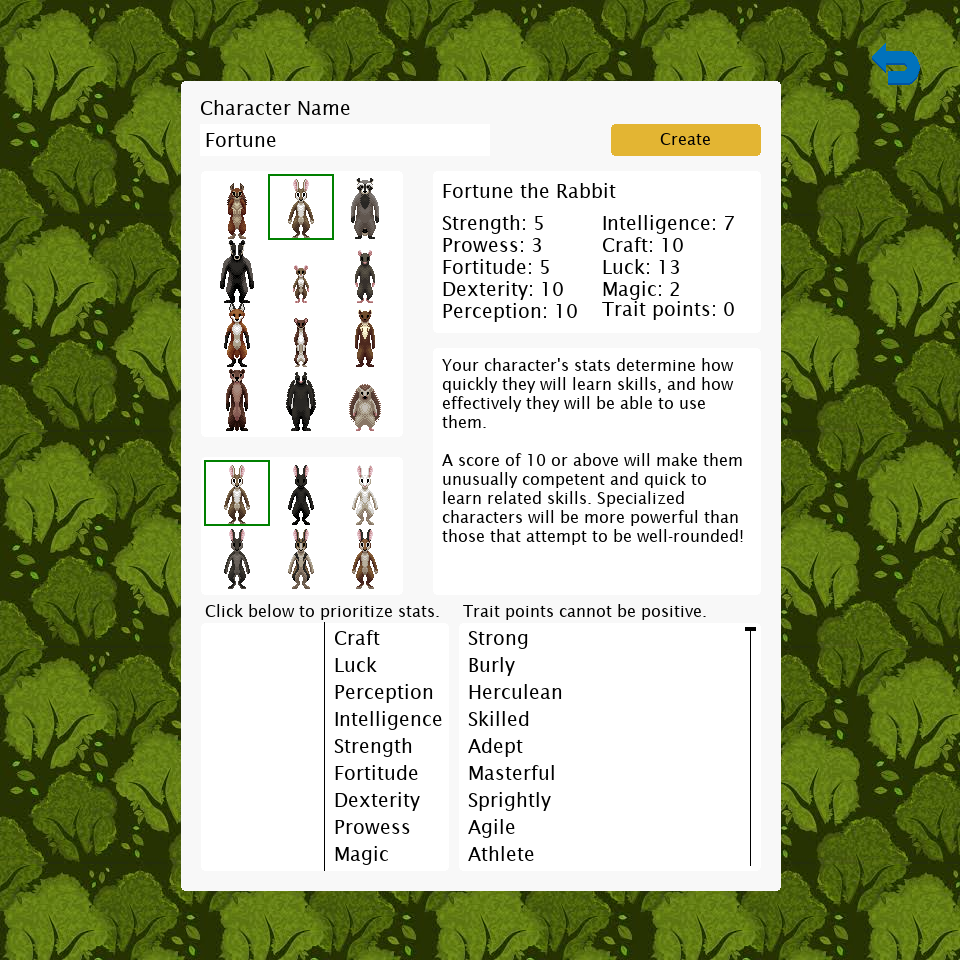 Here's an example character sheet for such a scrounger. The Rabbit species has the highest Luck, so we definitely want to start with them. They also have very high Dexterity, which is useful for us; it means we don't need to prioritize Dexterity very high to reach 10 in it, allowing us to bump up other useful stats. We have no native Craft bonus, so that has to be at the top of our priorities to reach 10. It's not possible for us to have 15 Luck; the highest we can get is 14, so we'll settle for 13 in order to get Craft to 10. Perception is next so that that reaches 10 as well.
Intelligence is our fourth choice, because both Craft and Intelligence contribute to our starting Mind pool, and Scrounging uses Mind. Then Strength next, just so that we have a decent amount of carrying capacity and won't be easily slowed down by all the scrounge we're carrying. Then Fortitude, because we'll be roaming around a lot, and Fortitude affects how long our Stamina lasts when we're running. It may seem unimportant, but being able to run further will be really convenient for us. Next Dexterity in order to bring that to 10 as previously mentioned, and then Prowess because it's not an important stat to us, but it is at least more useful than Magic, which is almost totally useless if you aren't playing a magic user, and should always be prioritized last.
That's all we need to create a successful, well-rounded character (besides the skill books and training to do the stuff we plan to do, of course). It is a shame though that we couldn't get to 15 Luck and still have 10 in all our other stats. It would be really convenient if we could hit that magic number somehow...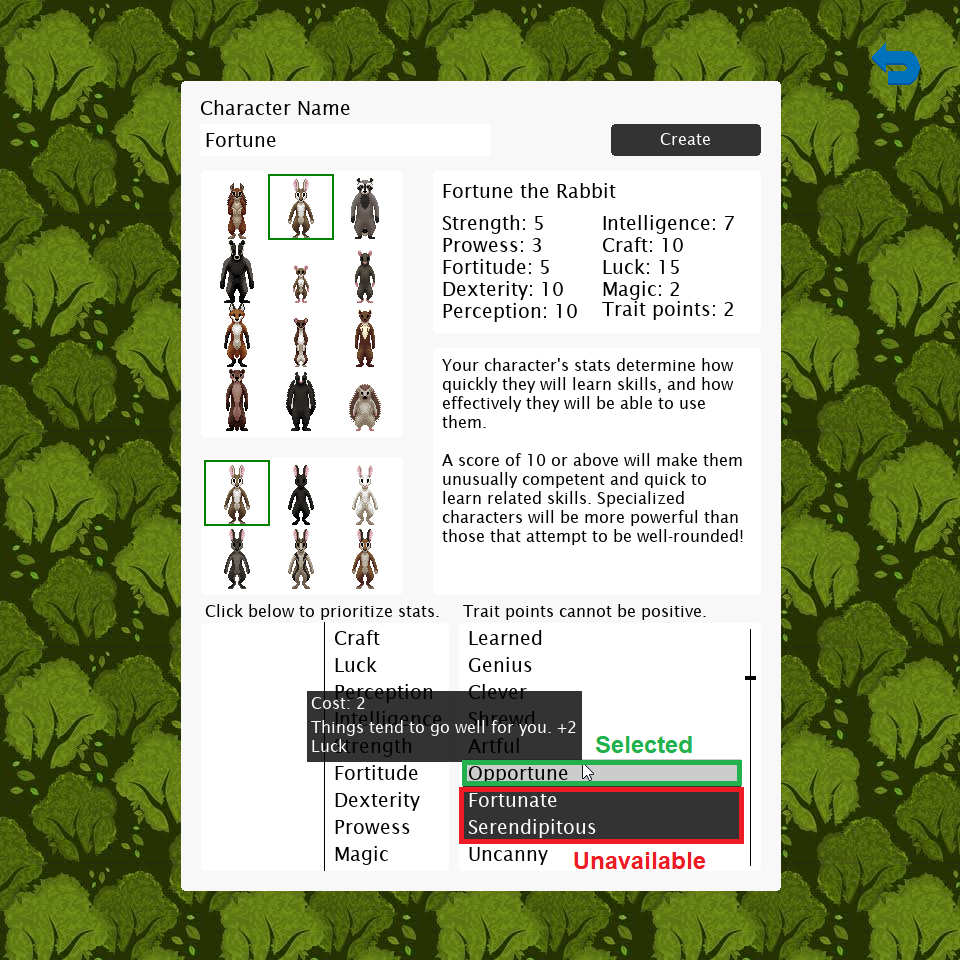 You guessed it; that's what traits are for. Now, it should be emphasized we don't need to do this. We can stick with 13 Luck and still be quite good at what we do. Traits are a Faustian bargain, and taking too many of them can cripple your character in ways you didn't foresee. You will almost certainly regret min/maxing your character with traits to pump your relevant stats as high as possible.
But if you want to squeeze that extra bit of effectiveness out of your Scrounging and hit the recommended 15, you can take the Opportune trait and get there. (You may notice that this locks us out of the other Luck-increasing traits, as well as the ones which reduce Luck.) This costs 2 trait points. You may notice that you can't create the character anymore; you're not allowed to have positive trait points, so we have to select another trait to get us back down to zero. Unfortunately, while +2 Luck costs 2 points, if we wanted, say, -2 Prowess, we would only get 1 point back. You can see where this becomes a pyrrhic sacrifice.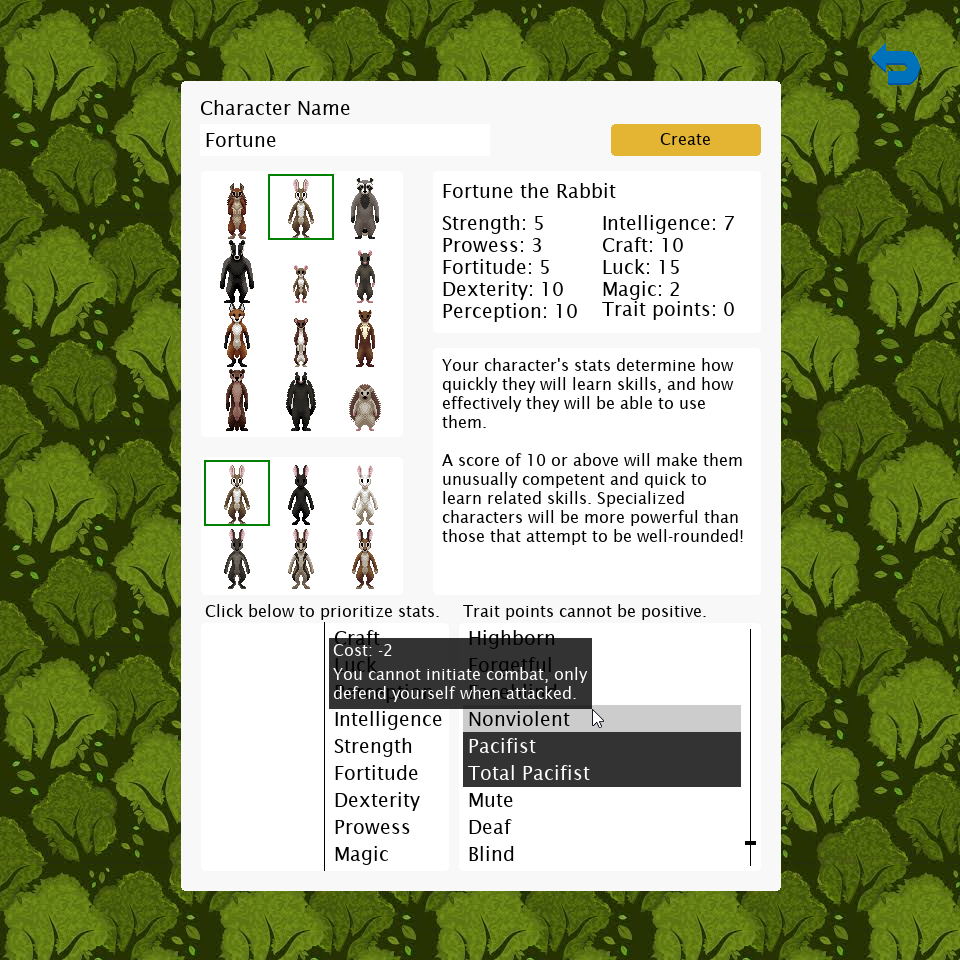 Instead let's take... mmmm... how about Nonviolent? We didn't design this character around combat so it's pretty unlikely they're ever going to fight anyone, so that seems like it probably won't come back to bite us in the tail. But you should be very careful when making your first character or two about stacking on traits; after all, you don't fully understand the consequences of them yet, and losing progress remaking a character to dump a trait that ended up being more than you bargained for is a major bummer. Once you're confident in the systems, you can start making more complicated, trait-heavy builds, but for now, remember that negative traits come at a steep cost, and if it seems like you're getting a great deal, you're probably getting less than you're paying.
One trait that is recommended (albeit maybe not for a first character) is Nomad. This trait gives you 8 points to play with, but means that you do not receive a burrow certificate. This means that you have no guaranteed safe place to sleep and store your possessions, but also stimulates roleplay opportunities by giving you more reasons to interact with other players, since you need a place to stay. This stimulates the creation of businesses like inns! It's also a great trait for characters who don't intend to be leaders, since it allows you to tie yourself more strongly to a faction. You can even still run shops as a Nomad by putting your storefront in someone else's burrow.
That's pretty much it; you can keep reading if you'd like to get into the nitty-gritty of how to plan out character builds, or just hop into the basics of playing the game; the fact is that everyone's first character is going to be a mess, so you might as well keep it simple.